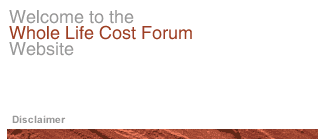 WLCF Online Tool is no longer available

The WLCF Online Tool was developed between 1999 and 2000 when the Internet was young, and very different from today, and was written in a language that is no longer compatible with the modern day Internet.

Unfortunately the cost of maintenance became too high and there was no financial support to upgrade to modern day technology.

Therefore after 8 years of service it has been withdrawn.

If you have any issues with live projects please email us here